Caring for Wildlife
Commitment to the Environment
Although our main daily engagement is the rehabilitation of gliders and flying foxes, it is the degradation of the natural world which concerns us most. The devastating foot-print each and everyone of us is inflicting on the environment results in a slow, but steady increasing environmental instability. .
In Australia, part of the problem is rapid deforestation, said Professor James Watson, the director for the University of Queensland's Centre for Biodiversity and Conservation Science. "We are world leaders in habitat clearance, vegetation clearance - we clear more land than just about every country on the planet, especially for cattle farming," he said.
"Land clearance and degradation is one of the greatest crises facing Australia and the world," says Bill Hare, the chief executive and senior scientist with Berlin-based Climate Analytics. "It undermines the basis for food production, is causing species loss and ecological decline, destroys climate resilience, degrades water resources and reverses carbon storage on the land."
The place we live on first was vandalised by timber cutters decimating the natural forest, then the rest of the vegetation was bulldozed for planting sorghum and up until 25 years ago, when we bought this property, it was used for grazing cattle. We put a lot of effort into re-planting native trees and shrubs, eradicating weed species like Lantana and other introduced species, letting native trees and shrubs naturally germinate and engaging in planting, planting, planting. This changed our land enormously and it is now described by visitors as a green oasis. About 18 years ago our property was registered with "Land for Wildlife", which strengthens our pledge to sustain and create save havens for wildlife.
We also subscribed to the Humane Society International "Wildlife Land Trust" with the goal to save land for wildlife sanctuaries and keeping commercial development out.
See: http://wildlifelandtrust.org.au/index.php/explore/sanctuaries/queensland/276-forest-lodge
In 2017/18 we planted about 120 special Eucalyptus species, which are preferred fodder trees of Koalas. Although the chances of Koalas colonising our area again are minimal, these plantings are worthwhile because they are also an important food source for Ring Tail Possums and the endangered Greater Glider, which we often get into care.
See more..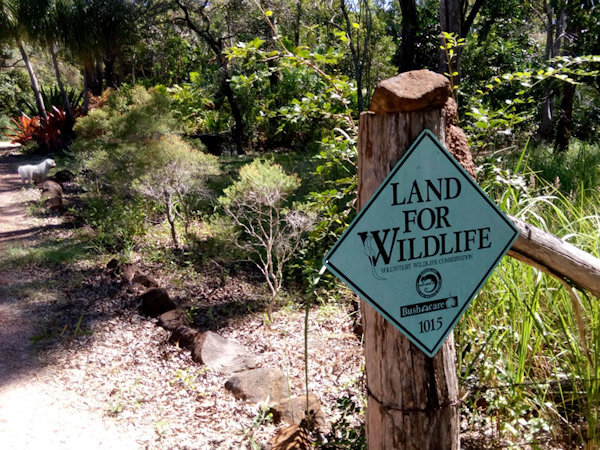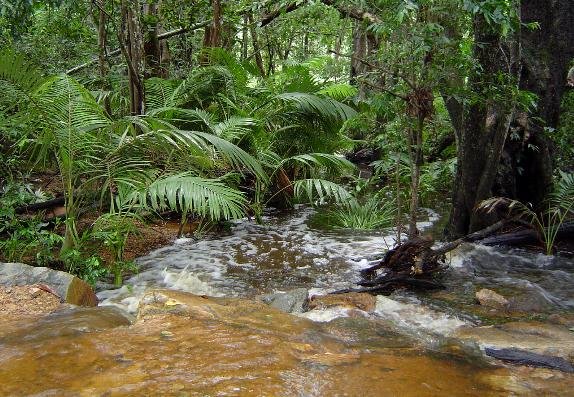 Our Creek running in the rainy season